November 4th, 2019 by Fix Auto USA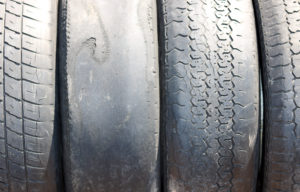 Everyone knows that driving on bald tires is unsafe. Even on dry, well-maintained roads it's an accident waiting to happen. Driving fast or on wet, slippery roads only increases the chances of an accident. The dangers of driving on worn out tires isn't just folklore – it's a proven fact. The National Center for Statistics and Analysis at the National Highway Traffic Safety Administration conducted a study that found 26.2% of auto crashes involved vehicles with bad tires (insufficient tread of 1/16th inch or less).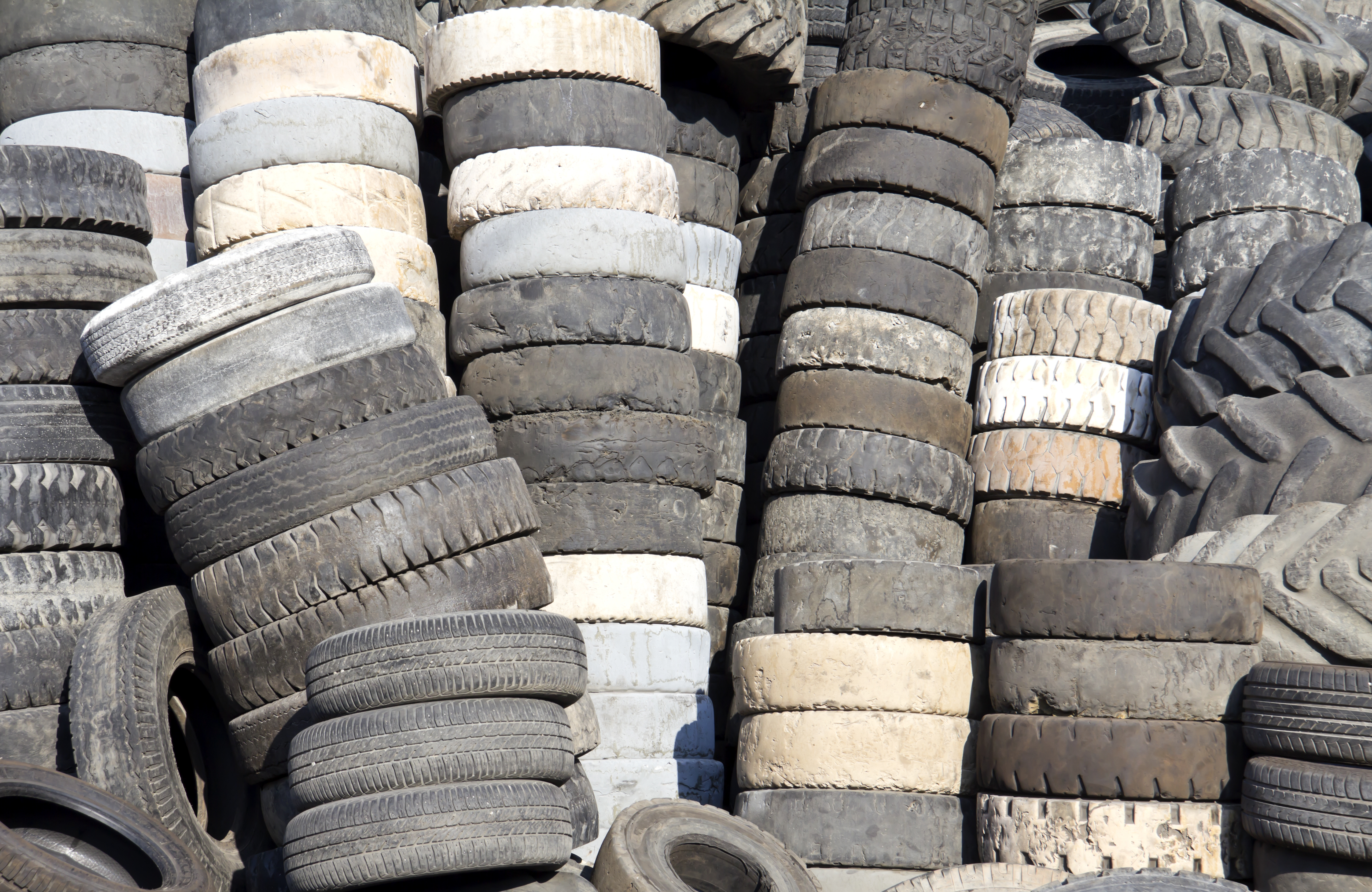 Protecting yourself and your loved ones starts with understanding the role tire treads play in safe driving, and when it's time to change your tires.
What Do Tire Treads Do?
Tire treads consist of carefully designed grooves, or channels, on the surface of the tire. They provide the traction necessary to grip the road in potentially dangerous weather conditions, such as rain, snow, ice, or mud. Without them, vehicles would be almost impossible to control on wet, icy, or slick roads. In fact, driving on bald tires in snow is one of the most dangerous situations for a driver.
Tire treads make it possible to steer on slick roads by forcing water away from the tire. This enables the tire to maintain a solid grip on the road even when the rain or snow is coming down hard. Treads also play an important role in making sure the car travels in the direction that we steer. Worn tires are unable to force water away, thereby making it difficult to control the car and steer in the right direction.
Are Bald Tires Dangerous?
Bald tires are one of the leading causes of accidents, especially those that involve a single vehicle. What makes them so dangerous?
Too much heat buildup. Driving creates friction between your tires and the road surface, and friction creates heat. Too much heat can cause a blowout, causing you to lose control of the car, especially at high speeds. Tire materials can withstand fairly high levels of heat. But, once the surface temperature reaches a certain limit, the tires become unsafe. Treads help cool the tire by allowing air to flow in between the grooves. Bald tires don't have the grooves provided by treads, so the heat can easily build up to unsafe levels.
Increased risk of hydroplaning. Hydroplaning occurs when a layer of water gets between the tire and the surface of the road. Modern tire tread patterns contain deep grooves that channel water away from the tire, allowing it to maintain a firm grip on the road in wet conditions. As the tread wears away over time, the grooves become shallower, making them less effective at directing water away from the tire. The shallower the grooves, the greater the risk of hydroplaning.
Difficult handling in snow or ice.  Unless you have good snow tires, which have wider and deeper grooves than everyday tires, driving on a road covered with snow or ice can be risky. Many winter tires come with "sipes" – small, thin grooves or channels cut into the edges of the treads. These help improve traction by providing more surface area to grip the road. If your snow tires don't have sipes, take them to your tire shop so they can add the extra edges for you. Keep in mind that as your tread wears away, so do the sipes. Having both in good condition will minimize the dangers of spinning out on icy roads. Bald tires in snow should be avoided at all costs.
Loss of air pressure.  Another problem with bald tires is they lose air faster than tires with good tread depth. Even if you check your tire pressure on a regular basis, low-tread and bald tires can lose their air sooner than you think. Once worn out tires become under-inflated, they're even more dangerous to drive. They can't grip the road properly, even in dry conditions, which can make it harder to steer. They can cause the car to skid during sudden stops. They even put a dent in your bank account by reducing gas mileage. Under-inflation also causes the remaining tread to wear out quicker, which requires replacing your tires sooner than expected.
Sudden blowouts. Treads help reduce the chances of suffering a blowout while driving. Blowouts are dangerous at any speed; at high speeds they can be fatal. Treads can't prevent all punctures, but if you run over a nail or other sharp object, they stand a better chance of resisting a blowout than bald tires.
How to Tell If Your Tires Are Bald
A simple visual inspection is all it takes. If the treads are gone and the surface of the tires are smooth, you have bald tires. If you forget to look, your tires will let you know by losing traction on wet roads, skidding when you come to a sudden stop, or becoming harder to steer at high speeds. Your ride will also be less comfortable, as bald tires have nothing to cushion the impact of bumps, potholes, or hitting small objects in the road.
How long can you drive on bald tires? That depends on several factors. If they're completely bald, get to a tire store and change them right away. Otherwise you're putting your own life and those of any passengers at risk.
Sometimes, only one or two tires may go bald in a set of four. This is a sign that your car may be out of alignment, especially if the baldness is just on the edges of the tire. In this situation, it's a good idea to have your vehicle inspected for mechanical problems before replacing the tires. Otherwise, your new tires may lose their tread sooner than they should.
If you only have one bad tire, it can be tempting to let it go until all tires need replacing. This can cause several problems that compromise safety. It will cause the other tires to wear unevenly, which can result in steering problems. It increases the chances of a blowout in the worn out tire. It can also lead to skidding during sudden braking or on slick roads. It is never a good idea to drive on bald tires – even just one.
What Counts As A Worn Out Tire?
Tires don't have to be completely bald to be considered worn tires. Once the treads are worn down to a certain level, they become unsafe to drive. It's easy to tell when your tire treads are wearing low. However, you need to inspect them on a regular basis, which can be easily done in just a few minutes. Tire professionals recommend checking them at least once a month. Here's what to look for:
Not enough tread depth.  Instead of "eyeballing" the tread depth, always use a tire tread gauge. They don't cost much, are simple to use, and can be easily stored in your glove compartment. Another way to evaluate tread depth is to insert a penny into the tread with the "heads" side facing you. If you can see all of Lincoln's head, your tread is too low and it's time to get new tires.
Visible indicator bars. Today's tires are made with tread indicator bars. These flat rubber bars are built right into the tire, but you can't see them when the tires have plenty of tread. As the tread wears down over time, the bars gradually become visible. When you can clearly see them, it means the tread has reached unsafe levels.
Sidewall cracks.  Tire sidewalls tend to dry out as the miles go by. This can lead to cracks or cuts that compromise the structural integrity of the tire. Very small cracks are common on worn tires, and don't pose much of a threat. Large cracks should not be ignored. Any time you spot one, head to your tire shop for a professional evaluation.
Worn out tires can also can develop bulges and blisters that create weak spots on their surfaces. These can increase the chances of a sudden blowout, and can also lead to skidding, hydroplaning, or losing control of your car by reducing the tire's ability to grip the road. As with large cracks, bulges, and blisters should never be ignored.
Be Tire-Safe: Rotate Good Tires and Replace Bad Tires
Tire professionals recommend rotating your tires on a regular basis. This will extend the life of the tire and keep you safer by having the tread wear evenly on all four tires. As a general rule of thumb, plan to rotate your tires every six months or 7,500 miles. When purchasing new tires, follow the manufacturer's recommendations for how often to rotate the tires. Your driving habits and local weather conditions may dictate more frequent rotation.
Sooner or later, your worn out tires will need replacing. For safety's sake, sooner is always better than later. Never replace your tires based solely on the estimated lifetime mileage. Instead, learn how to measure tread depth and check for signs of tire damage on a monthly basis. Finally, if you're unsure if you need or will be needing new tires, it's best to consult your local tire shop immediately.
Driving on bad tires puts you and everyone else on the road at risk, so be a good citizen and keep your tires in good condition at all times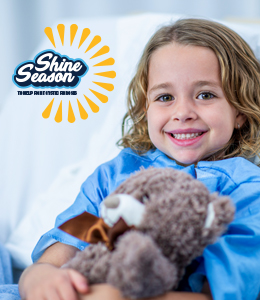 We are the premier independent body shop network delivering world-class customer service and high-quality collision repairs across the U.S.