August 5th, 2019 by Fix Auto USA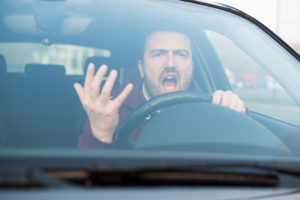 By now, just about everyone has heard of road rage. Incidents are shown on the news all the time. It's also common to pick up a newspaper or go online and read about a road rage encounter. Many people report having been a victim of road rage.
Yet, despite the growing media attention, there are a lot of misconceptions and false information floating around about this phenomenon taking place every day on the roads and highways of America. For example, most people don't know the difference between aggressive driving and road rage. Even more don't know whether it is considered a crime. (It is, but more on that in a moment.) Let's start by defining road rage.
What Is Road Rage? 

Although both involve unsafe driving practices, road rage is not the same thing as aggressive driving. Aggressive driving occurs when someone commits one or more moving traffic offenses that endangers other drivers or their property. These offenses can include speeding, tailgating, suddenly changing lanes without warning, cutting off other drivers, and failure to yield the right of way. They can all result in receiving a traffic ticket, but they do not constitute road rage.
Road rage is the act of using your car as a weapon to retaliate against other drivers in various ways. Acts of road rages include:
Tailgating dangerously close or actually nudging the bumper of another vehicle
Sudden braking in front of another vehicle
Prolonged sounding of your horn to harass another driver
Forcing another driver off the road
Getting out of your vehicle with intent to injure another driver
The commonality in these and other types of road rage is they involve a deliberate and purposeful act(s) designed to cause harm to another driver. Road rage rarely gets triggered by a single event. Instead, it usually results from a series of stressors, some of which have nothing to do with driving. A driver may be worried about work, financial, or relationship problems. The stress leads to aggressive driving, which escalates into road rage as a result of actions taken by another driver.
But Is It a Crime?
The biggest difference between aggressive driving and road rage is how the law treats it.
Aggressive driving can result in misdemeanor traffic tickets. You pay your fine. You get a point or two on your driving record. Your auto insurance premiums might even go up. But, that's it. Road rage is considered a criminal offense, because the driver engaging in it has the intent to cause harm. You can go to jail. You can pay costly fines. In a worst-case scenario you can be convicted of a felony.
The problem with road rage, and a major reason for the lack of understanding about it, is the laws vary from state to state. Almost every state considers road rage a crime. But, not all have laws prohibiting road rage and prescribing specific punishments for it. If you're not sure about your state, check its DMV web site or search online about road rage in your state.
In states that don't have road rage laws, the aggressive and violent behaviors are typically punished under a different law. For example, the state of California – which does not have a road rage law – often punishes incidents of road rage under these laws:
An unlawful attempt to commit a violent injury on another person.
Assault with a deadly weapon. Assault using an instrument with enough force to produce great bodily injury.
Any willful and unlawful use of force or violence upon another person.
Hit and run. Leaving the scene of an accident without exchanging information with the other driver.
Reckless driving. A driver who willfully or wantonly drives with a disregard for the safety of other people or their property.
Criminal threats. Making a spoken, written or electronic communication that causes another person to fear for their safety or that of their immediate family.
The punishments for breaking these laws vary depending on whether the conviction involves a misdemeanor or felony. They can include a fine, jail time, or both.
Tips for Avoiding Road Rage
Road rage is a growing problem in the U.S. In 2006, only 80 fatal crashes were related to road rage. In 2015, the number increased to 467. In 2014, 247 road rage incidents involved a gun. In 2016, that number climbed to 620. Since 2013, road rage has caused an estimated 300 deaths. From 2013 to 2017, 136 people were killed in road rage incidents involving firearms. Over a seven-year time period, more than 200 murders and 12,000 injuries were attributed to road rage.
To protect yourself against road rage:
Give yourself time to get where you're going. If you're upset, take time to calm down before getting behind the wheel.
Be patient with slow drivers or those who seem to be getting in your way.
Don't use threatening hand gestures.
Don't tailgate.
Don't lean on your horn – no matter how frustrated you may be.
Never stop to confront another driver.
If another driver acts aggressively towards you:
Change lanes or gradually slow down to create distance between the two of you. Exit the highway if necessary.
Don't make eye contact or respond to the other driver.
Don't stop or pull over to the side of the road.
If another driver is following you, lock your doors and drive to the nearest police station.
Drive safely, be courteous to other drivers, and don't drive when angry or upset. When your vehicle needs professional body repairs, bring it to the experts at Fix Auto. We'll fix it right the first time and put a smile back on your face.
We are the premier independent body shop network delivering world-class customer service and high-quality collision repairs across the U.S.