October 18th, 2018 by Fix Auto USA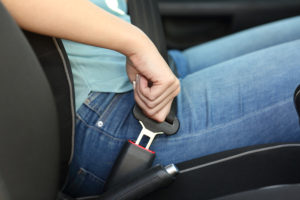 Whoever invented seat belts should have won the Nobel Prize for Safety. According to the National Highway Traffic and Safety Administration (NHTSA), seat belts save about 15,000 lives in the United States each year, and could save 2,500 more if the victims had been wearing their seat belts. The Center for Disease Control and Prevention (CDC) estimates that between 1975 and 2008, seat belts saved 255,000 lives in the U.S.
Why It's Safer to Wear a Seat Belt
The primary benefit of correctly wearing a seat belt is that it prevents one of the main causes of fatalities during auto accidents – getting ejected from the vehicle during a collision. You can still get severely injured even when buckled up in your seat. And, seat belts can't save lives in every situation. But, preventing people from being ejected dramatically reduces the number of lives lost during auto collisions.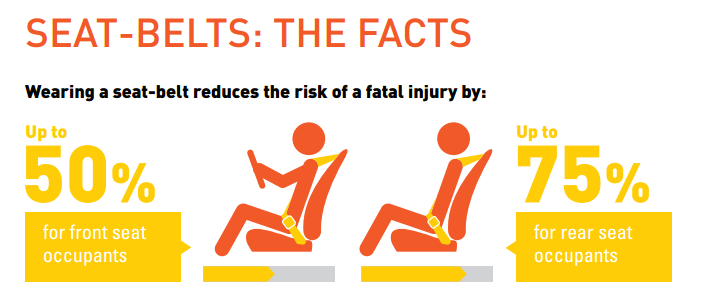 Today's cars are installed with "3-point" seat belts, also called lap/shoulder seat belts. They are safer than earlier "2-point" seat belts because they have three attachment points (one for each hip and one over the shoulder) rather than just one for each hip.
Having three attachments makes it easier to constrain the body in the seat even against tremendous force. It also spreads the force across more of the body, which helps to minimize injury.
The only drawback with 3-point seat belts is they are designed to protect adult-sized bodies. As a result, child safety seats were developed to spread the force of an accident across an area appropriate for keeping a child safe. Never place a child under the recommended height and weight in an adult-sized seat belt.
5-Way Protection
When auto accidents occur, today's 3-point seat belts help protect the driver and passengers in five ways.
Keep occupants inside the vehicle. For a long time, people believed the myth that it was better to be thrown outside the vehicle in a serious collision. Research has since proven that being ejected results in more fatalities and more severe injuries compared to people who remain inside. According to the NHTSA, people ejected from a vehicle during a crash are four times more likely to be killed than those held inside by a seat belt.
Restrains the strongest parts of the body. Modern seatbelts are designed to restrain your body at its points of greatest strength. For adults and older children, that means the hips and shoulders. Not wearing the shoulder portion of the strap significantly reduces the safety factor of the seat belt.
Spreads the forces during a collision over a bigger surface area. To provide maximum restraint while minimizing injury, lap-and-shoulder belts spread the force of the crash over a wide area of the body. For drivers and front-seat passengers, shoulder straps also help keep the head and upper body from contacting the windshield, dashboard and steering wheel, which is a leading cause of serious injury.
Slows down the body. Another major cause of injury in car crashes is the shift between going fast and suddenly stopping. Seat belts help lengthen the time it takes to slow down during an accident.
Protects your brain and spinal cord. Brain and spinal cord injuries often result from the whiplash that can occur with sudden stopping. When worn correctly, seat belts can minimize injury by reducing the speed and impact of the whiplash.
Seat Belt Laws
If you're wondering whether it is against the law to not wear a seat belt, the answer is yes – in every state. However, there are differences in how states enforce their seat belt laws. For example, New Hampshire does not require adults to wear seat belts, but anyone under the age of 18 must buckle up. Some states don't require backseat passengers to wear seat belts.
While not against the law, double buckling (using one seat belt to restrain two people) is highly dangerous and should not be practiced under any circumstances, especially with young children.
How To Buckle Up Correctly 
People sometimes forget that seat belts have to be worn properly to provide maximum protection. The strap that goes across your lap should not be resting on the stomach. Instead, make sure it fits snugly (but not too tight) over the hips and upper thigh. The shoulder belt goes across the shoulders and upper middle of your chest, again, snugly, but not too tight. Never secure the strap under your arms or behind your back, and don't let it fall across your neck or face, as this increases the chances of injury in an accident.
Seat Belt Safety for Infants and Children 
Children are not built the same as full-grown adults, so they require a different type of protection when riding in a car. The safest way for children to travel depends on their age, weight, and height. The American Academy of Pediatrics (AAP) recommends the following:
Rear-facing child safety seat. Children should ride in rear-facing car safety seat as long as possible until they reach maximum weight and height restrictions stated by the manufacturer. The child should always ride in the back seat of the car.
Forward-facing child safety seat. Children who have outgrown rear-facing seats should use a forward-facing seat with a harness. The seat should be placed in the back seat until the child reaches the upper height or weight limit of the seat according to CSS manufacturer.
Booster seat. When a child exceeds the weight and height limits of a forward-facing safety seat, they should then transition to a belt-positioning booster seat.
Seat belt. When a child grows to four feet, nine inches tall – usually around age eight and twelve– they can begin wearing a regular seat belt. Even so, they should remain in the rear of the car until at least 13 years of age.
No matter what age, wearing a seat belt is serious business.  Buckle up every time you get in the car and the life you save just might be your own.
We are the premier independent body shop network delivering world-class customer service and high-quality collision repairs across the U.S.