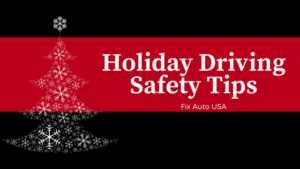 December 15th, 2017 by
Jonathan Herrera
The holidays are the time of year when families gather from near and far, which means there are more cars on the highways than usual. According to the Bureau of Transportation Statistics, the number of long-distance trips (50+ miles one way) increases by 23% around Christmas and New Year's Day. Throw in high winter winds, rain, snow and ice, and it can lead to unsafe driving conditions in many parts of the country. Avoid an auto collision with these tips.
Practicing the following driving tips, especially during the holidays, can help you arrive safely at the end of your journey.
Basic Safety Tips For Holiday Driving
Get your car ready for the trip.

Start with some basic auto maintenance and safety checks. Check your tire pressure and tread depth to ensure they meet recommended safety levels. If you expect to be driving on snow or ice, change to snow tires or all-weather tires with snow studs.

Check the battery to make sure it has sufficient "juice." The last thing you want is to get stranded by the side of the road in sub-freezing weather with an engine that won't start. Check the level of antifreeze in your radiator and fill the windshield wiper washer's reservoir. If necessary, replace worn out wiper blades.
Prepare an emergency roadside kit.

If you do get stranded, a winter emergency kit can be a lifesaver. Essentials include first aid supplies, jumper cables, an ice scraper, and a snow brush. Other items you'll want to have include:

Extra gloves, hats, and blankets
Flashlights with fresh batteries
Warning flares or reflective triangles
Drinking water and nonperishable snacks
Warm clothes
Basic hand tools and a shovel
Cell phone chargers

Plan your route in advance.

Map out the best way to reach your destination, and identify an alternative in case of road closures due to severe weather. Before leaving, check your smartphone app to identify any areas of heavy traffic and how to avoid them.

Check weather and road conditions before you leave.

This is especially important if your route will take you through mountain passes or other areas with potentially unsafe roads. During your trip, consult a weather app on your smart phone to stay up to date on current conditions.

Keep children safe.

Use baby and booster seats for children of appropriate ages. Make sure you know how to properly secure them.

Take frequent rest breaks.

Insurance carrier and auto safety expert AAA recommends stopping every two hours or 100 miles – whichever comes first – to rest. If you have more than one adult in the car, change drivers at each break to avoid getting over-tired.

Remember to secure your valuables throughout the trip. Leaving wrapped presents in plain sight inside your car presents a tempting target for thieves, so keep all valuables in the trunk or a covered storage area. If you stay overnight at a roadside hotel, bring them inside your room.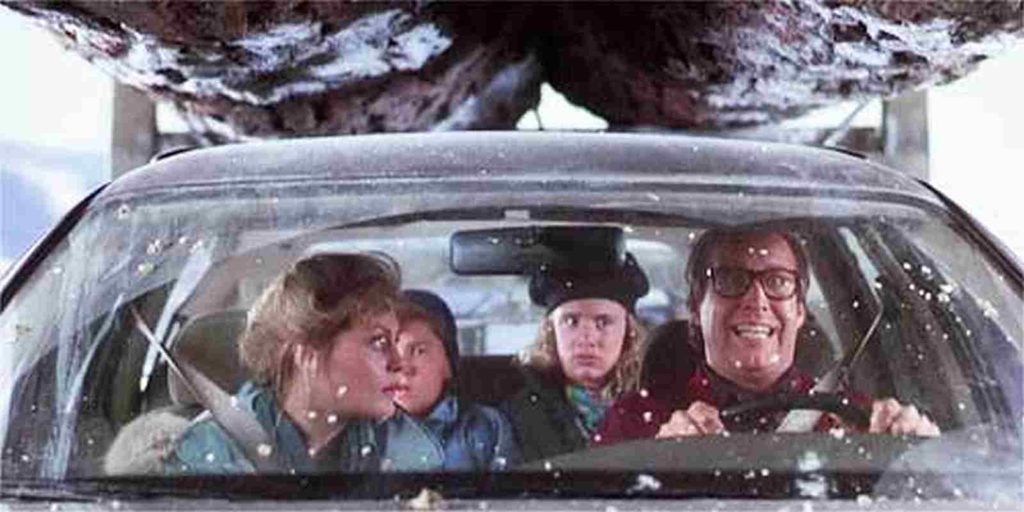 Use Safe Winter Driving Techniques
Now that you know what to do before embarking on your trip, here's what to do once you're out on the road and driving in inclement weather.
Accelerate and decelerate slowly.
Don't follow too closely. Leave plenty of between you and the car in front of you.
Drive slowly and allow extra time for braking and coming to a stop.
Don't stop when going up a hill; reduce speed when going down.
Avoid using cruise control when driving on snowy or icy roads.
Know how to respond if your car skids on snowy or icy roads.
Keep your windshield clear at all times.
Keep your lights on during the day.
If you experience engine problems, or road conditions become too severe to continue driving, pull over in a safe place and stay with your vehicle. This will provide shelter while making it easier for rescuers to locate you. Attaching a colorful piece of cloth to your antenna or car racks can also help search parties find you.
If you run the engine to keep warm, make sure your exhaust pipe isn't clogged with snow, ice or mud. Otherwise, carbon monoxide gas could leak into your car and cause sickness or worse.
Finally, practice the safe driving tips listed above, don't be in a hurry to get there, and don't let yourself get over-tired on long trips. You'll arrive safely and make it a happy holiday season for everyone. Happy Holidays from your friends at Fix Auto USA.