March 31st, 2020 by Fix Auto USA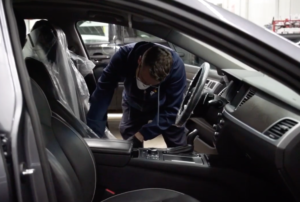 At Fix Auto USA, we are committed to the safety and wellbeing of every visitor, customer, partner, and store associate. During the Coronavirus (COVID-19) pandemic, we are taking additional measures to ensure you continue receive the same high-quality services and support you expect from us. These include:
Thoroughly cleaning and disinfecting each location twice a day.
Requiring all store associates to wash their hands, as often as possible. We are following U.S. Centers for Disease Control and Prevention (CDC) handwashing guidelines, which involve washing the hands with soap and water for a minimum of 20 seconds, or using hand sanitizer.
Practicing social distancing by maintaining a minimum of 6 feet of physical space during all personal interactions. In lieu of a handshake, our store associates will greet you with a warm, "Hello and welcome to Fix Auto!"
Requiring our customers to remove all personal items from their vehicles prior to drop-off. Personal items may include phone chargers, garage door openers, backpacks, sunglasses, etc.
Disinfecting your vehicle twice. We disinfect your vehicle as soon as you drop it off, then again at pickup. We also pay close attention to your vehicle's high-touch surfaces, including its buttons, levers, and knobs, etc. to ensure they are fully disinfected and cleaned.
Covering your vehicle's steering wheel and driver's seat in plastic to ensure safety during repairs.
Giving you the option to have your paperwork printed or emailed to you.
Alternative services are also available to accommodate your repair needs during the COVID-19 pandemic, including Fix Signature Care and Curbside Concierge programs.
What Is Fix Signature Care?
Fix Signature Care is your personal body shop valet service. We'll retrieve your damaged vehicle — at home, work, school, or any other location that's convenient to you — and drop off a rental car When repairs are complete, we'll deliver your vehicle to you and return the rental car on your behalf. It's that easy!
Along with a valet service, Fix Signature Care enables you to request in-shop service at a date and time that suits your schedule. Submit your request, and arrive at the agreed-upon date and time at your preferred location.
What Are the Benefits of Signature Care?
Signature Care's benefits include:
Fast Repairs: Get your car repaired as quickly and efficiently as possible.
Quality Assurance: Ensure your car is repaired by our highly trained technicians.
Limited-Lifetime Warranty: Repairs are backed by our limited-lifetime warranty and honored at every location.
All Makes and Models: Regardless of your vehicle's make and model, we'll be happy to serve you.
Free Estimates: Every estimate we provide is always free of charge
How to Request a Fix Signature Care Valet
Here's what you need to do to request a Fix Signature Care valet:
Visit our Fix Signature Care website and click "Request Valet."
Provide us with your vehicle and insurance information.
Schedule a date, time, and location to arrange for pickup.
Receive confirmation from our auto body shop that your request has been received, and the pick-up date, time, and location for your vehicle have been approved.
We stay in touch with you throughout your repairs, too. Our auto body shop personnel communicate with you to ensure fast, seamless pick-up and safe, effective vehicle repairs. Also, if you have concerns or questions at any point during the process, we're available to respond to them.
How to Take Advantage of Curbside Concierge
"Drive-up and go" programs have become exceedingly important due to concerns about the COVID-19 pandemic. Now, we are proud to offer Curbside Concierge, a drive-up and go program similar to those available from Target, California Pizza Kitchen, and various retailers and restaurants.
Curbside Concierge is a drive-up and go program that safeguards our customers and store associates against the spread of the Coronavirus. The program allows you to check-in for repairs from the comfort of your car.
With Curbside Concierge, we have a dedicated parking stall and sandwich board signs to direct you on where to go once you arrive. Of course, if you are unsure where to park, there is no need to stress. Park anywhere in our parking lot, or even on the street, and give us a call, and we'll come to you to pick up your vehicle.
Stay Safe and Healthy During the COVID-19 Pandemic
Fix Auto has always embraced a Working Together model, and we will continue to work with you to ensure all of us can stay safe and healthy during the COVID-19 pandemic
The COVID-19 pandemic is evolving, and we are quickly adapting to the challenges associated with it. We are closely monitoring guidance from the CDC and other health and government organizations to comply with safety guidelines throughout the COVID-19 pandemic. In addition, we are teaching our store associates safe practices to use during the COVID-19 pandemic and will continue to explore new and innovative ways to protect everyone against the spread of the virus.
We are here to provide the same level of service and support that you expect from us throughout the COVID-19 pandemic. Our auto body shop locations remain OPEN during the COVID-19 pandemic, but our hours vary. So, we encourage you to call ahead to your preferred location or to contact us at 1-800-INFO-FIX if you have any concerns or questions.
To find a location near you, visit fixautousa.com/locations. We look forward to serving you soon.
We are the premier independent body shop network delivering world-class customer service and high-quality collision repairs across the U.S.