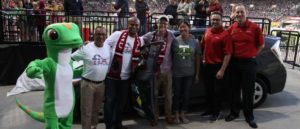 September 11th, 2016 by
Eli P
On Sunday, September 11, retired military veteran Dennis Cater II and his family will receive a 2010 Toyota Prius as part of the National Auto Body Council's (NABC) Recycled Rides® initiative. GEICO provided the vehicle and Fix Auto completed the car's refurbishing.
The surprise presentation will take place at Providence Park during the Portland Thorns FC and the Western New York Flash. The ceremony is part of the Thorn's Military Appreciation Night, and will be part of an immersive experience in which the recipients will receive autographed Thorns' gear, gain access to the field and players during warm-ups, and enjoy VIP seats placing them right on top of the action.
Cater was chosen by the Military Order of the Purple Heart, a veterans service organization focused on the well-being of the combat wounded. He was deployed multiple times in Afghanistan with the U.S. Army as part of the elite 160th Special Operation Aviation Regiment (SOAR), the highest deployed unit in that country. While being engaged with the Taliban, Cater suffered a serious injury during a helicopter crash.
Although Cater suffered a traumatic wound, it has not prevented him from being fully engaged in the Portland metropolitan area as a member of the Military Order of the Purple Heart. He is an advocate for veterans and works tirelessly to assist them through the variety of programs the organization offers. The only roadblock to his effectiveness has been a lack of reliable transportation; however, the restored Prius will solve this problem.
"Dennis is remarkable in that he continues to give so much of himself to others long after  the sacrifices he made defending our country," says Shon Kim, owner-operator of Fix Auto Gresham and Fix Auto Express Gresham, the local facilities that donated the labor to refurbish the vehicle. "It's an honor that our team had a chance to serve him in our own small way and we wish Dennis and his family all the best."
"The Recycled Rides program provides us with a way to give a special thank you to Mr. Cater for his service to our country," said Martha Furnas, GEICO regional vice president. "GEICO associates have a rich history of serving the people in our military branches and providing support for our neighbors in the community. The vehicle Mr. Cater will receive will no doubt help him make a difference in many more lives."