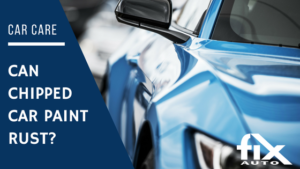 June 6th, 2018 by
Fix Auto USA
A shiny coat of paint can make just about any vehicle look good, no matter it's age. At the same time, it's surprising how just a few small dings, scratches, or paint chips can ruin the appearance of an entire car and make it appear much older than it actually is. But, when it comes to paint chips on cars, the problems can run much deeper than just appearance. In fact, when paint chips are left unrepaired they can eventually lead to rust, which further degrades the appearance of the car and can threaten its structural integrity.
Auto exterior paint provides an important first line of defense against rust, which can cause significant damage to the body of your car. The problem with paint chips, even small ones, is they can expose the bare metal underneath the paint. Bare metal will rust over time, especially in coastal areas where the air contains a lot of salt water and in wintry climates, where harsh road salts and de-icing chemicals can quickly eat away at exposed metal. Weather and chemicals can also increase the size of a paint chip, thereby exposing even more bare metal to potential rust. Once a patch of bare metal becomes oxidized (rusts), the rust can spread to other areas of the car underneath the paint where you can't see it. As the rust spreads, it can reach the point where the body of your car becomes structurally unsound.
What Causes Chipped Paint on Cars
In addition to extreme weather, many other factors can contribute to chipped paint on your car. These include: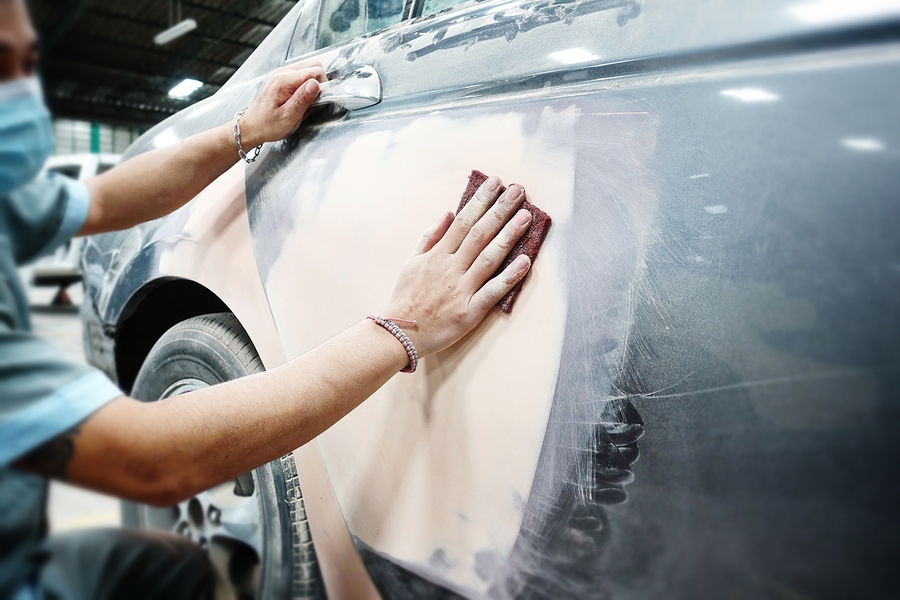 Minor Accidents. It doesn't take much to chip auto paint or leave a permanent scratch on the exterior of your Someone opens their car door into yours, leaving a small ding and a scratch. Someone rear-ends the back of your car at a low speed, causing no structural damage but leaving a number of paint chips behind. It's not your fault, but the chips and scratches still to be fixed.
The Environment. Daily exposure to the sun's harsh rays, bird and tree droppings, and wind-blown dirt and dust are just some of the environmental factors that can damage the paint on your car. Many times they don't cause immediate damage. However, over time they gradually start to wear away at the paint, making it easier to chip over time.
Harsh Cleaners. Cleaning chemicals made with harsh abrasives may keep your car looking clean and shiny. But they do more than just remove dirt. They can also remove the outer layer of your car's paint and cause paint chipping, especially when improperly applied or overused.
Vandalism. Someone keys a door or side panel, or scratches the paint when attempting to break into your car. Or they bump into your car on a bicycle, leaving minor scratches, and don't report the damage. Left alone, these paint chips can lead to underlying damage to the body of your car.
How to Fix Paint Chips on Car
It can be tempting to take the do-it-yourself-approach to paint chip repair, especially when the chips aresmall and few in number. However, making paint chips look like new again requires more than buying a can of paint from the local auto parts store, applying it, and sanding it down. To get the best finished look with paint chip and car rust repairs, leave it to the professionals. There are several reasons to turn these kinds of repairs over to the pros:
Professional results. A qualified auto body shop will fix your paint chips in a fast and professional manner. This includes inspecting your car to detect any underlying
damage to the metal.
Perfect color match. Today's cars come in many different colors, and a repaired paint chip that's a bit off in the color shade can stand out like a sore thumb. Many of today's auto body shops – including Fix Auto – use sophisticated technology to ensure a perfect color match when applying new paint.
Save time and money. Unless you have experience touching up auto paint nicks and scratches, chances are you won't get your do-it-yourself repairs right the first time. If the repairs aren't performed correctly, your car may still be susceptible to rust underneath the new paint you apply. Having it done by the pros will prevent further damage to the car, saving you time and money in the long run.
Preventing Chipped Paint on Cars
If you take care of paint chip repairs while they are still small, it doesn't cost a lot of money. However, the better solution is to prevent them from happening in the first place. It's not possible to prevent all paint chips and scratches. But there are things you can do to reduce the chances of getting paint chips on your car.
Wash your car correctly and often. Use mild soap and soft sponges to remove the dirt, oil, grease, and harmful chemicals that can eat away at your car's paint. Keep the sponge wet when scrubbing, as a dry sponge can create "micro" scratches than can grow into bigger ones. Thoroughly dry your car with a chamois after washing. Letting it air dry softens the paint and allows water spots to collect, which can eventually lead to rust.
Park your car in a garage or other covered area. If covered parking isn't available, use a car cover to protect against sun exposure and other types of weather that could erode the integrity of the paint. Parking in the shade is a good alternative. But never park underneath trees that can drop rough objects like pine cones or sticky materials that are really bad for car paint.
Wax your car once a month. A fresh coat of wax is your car paint's best friend. Car wax comes in two basic types: carnauba and synthetic. Carnauba wax is made from the leaves of a Brazilian palm tree, and produces a glossy, protective finish on your car. Synthetic wax is made from chemicals and comes in liquid or spray form. It is cheaper and easier to work with than carnauba, and some have a higher melting point, making them good for hot climates. But they don't provide the same shine of carnauba wax.
For the ultimate in paint and rust protection, nothing beats applying a sealant to your car. When done by a professional, so much the better. Don't let small paint chips ruin the appearance and structural integrity of your car. When they rear their ugly heads, bring your car to the professionals at Fix Auto – before the paint chips get out of control!