August 19th, 2019 by Fix Auto USA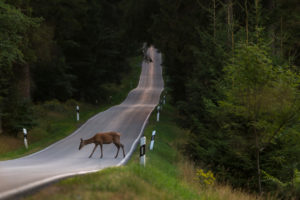 When you get behind the wheel of your car, worrying about an animal-involved vehicle collision probably isn't top of mind. Yet, every year, millions of drivers throughout the U.S. experience an auto accident involving animals. Many of these animal-involved accidents cause bodily injuries, ranging from minor to serious. Unfortunately, many also result in fatalities. Whether you encounter a small squirrel scurrying across the road or a massive moose standing still in the middle of your lane, any animal has the potential to cause a serious accident. Avoiding wildlife on the road requires knowing how to react when you suddenly come upon an animal directly in front of you.
Wildlife Vehicle Collisions (WVCs): The Most Common Animal Vehicle Collisions
A fully-grown male moose can weight up to 1,600 pounds. Slamming into one of these huge creatures at even a moderate rate of speed can result in horrific damage to animals, humans and their vehicles. Hitting an average-size 300-lb.deer can also cause serious collisions. With these creatures abundant in many states, it's no surprise that so many animal accidents occur and that the damage can be so extensive.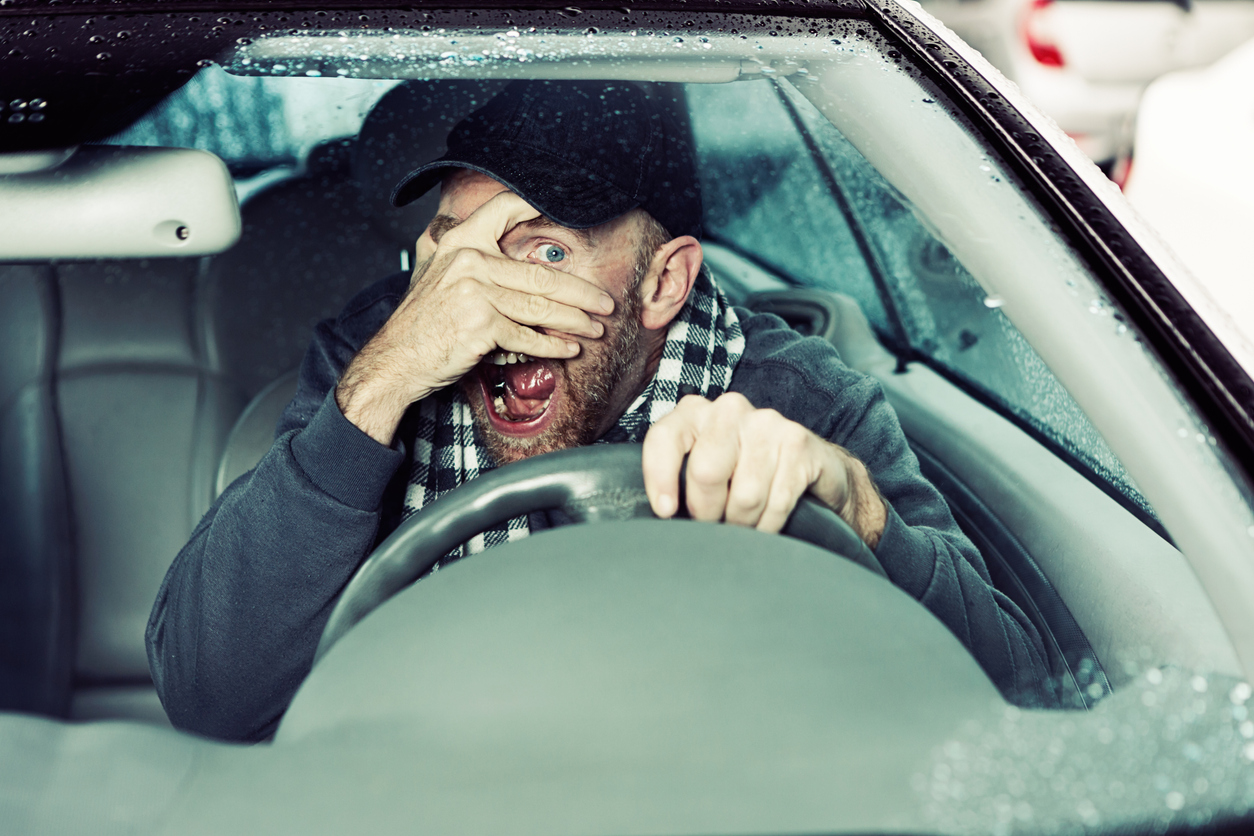 According to Defenders of Wildlife, a national conservation organization, more than a million wildlife vehicle collisions (WVCs) happen every year due to wildlife on the road. Of these, 29,000 result in injuries to drivers and passengers, while more than 200 result in fatalities. In one six-year period, wildlife-related crashes in the U.S. took more than 2,300 lives. These animal-involved auto accidents also cause more than a billion dollars in damages.
How to Avoid Animal-Related Auto Accidents
Most animal-involved vehicle collisions occur when a creature suddenly dashes into the road in front of vehicles. They can also occur when animals are standing in the road and drivers don't see them until it's too late to stop. These tips can help you avoid dangerous WVCs:
Be prepared. When driving in areas with wildlife activity, slow down and drive with caution. Scanning the road and shoulders ahead of you will provide more reaction time to avoid a collision. Animals on or next to roads can be erratic and unpredictable, so expect the unexpected. Keep in mind that some animals move in groups. If you spot one, there may be more nearby.
Slow down or stop. When you see an animal in the road, reduce speed in a safe manner. If it's a large animal, such as a deer or moose, come to a stop and wait for it to move out of the road. It the animal is a deer, flashing your lights or honking your horn may encourage it to move. Don't try this technique with a moose, as they can be very aggressive when provoked. If an animal is on the shoulder of the road, proceed slowly ahead, watching out for any sudden movements from the animal.
Avoid swerving. When an animal dashes into the road, the first instinct is usually to quickly swerve to avoid a collision. Instead, apply the brakes firmly and remain in your lane. Swerving to avoid an animal can often result in losing control of the vehicle and lead to a more serious crash.
Other safety tips include:
Use high-beam headlights at night if there is no oncoming traffic.
Take extra caution at dawn and dusk, when wild animals tend to be more active.
Be on the lookout for increased wildlife movement during hunting or mating season.
Always wear a seat belt.
What To Do After Hitting Wildlife on the Road
After hitting a large animal, pull off the road into a safe space. Stay inside your vehicle, as an injured moose or deer could be dangerous. Check for injuries to yourself and passengers, and call for emergency aid if needed.
Turn off your emergency flashers to warn other drivers. If the animal is lying in the road and not moving, it may be safe to get out of your car and place flares or reflective triangles in front of the scene of the accident. This can be a good safety measure, especially at night.
When it's safe to get out of your car, inspect your vehicle for damage. Even if it is drivable, it may not be in safe operating condition. If the damage is extensive or you have any doubts about the safety of your car, call for roadside assistance and have it towed. In the event of injuries or death, you will also need to call the police.
Urban Animal-Involved Vehicle Collisions
Hitting wildlife on the road isn't the only type of animal-involved auto accidents. Unfortunately, a lot of animal-involved vehicle collisions occur with dogs, cats, and other small critters that live in urban areas. Even more unfortunate, many of these accidents involve beloved family pets. Worst of all, these accidents are often caused by drivers who let their pets roam free in the car. This creates distractions that can lead to serious accidents involving injury or death.
There are no concrete statistics on how many accidents occur due to pets or small animals, but rest assured there are a lot of them. According to an article on driving and pet safety:
84% of dog owners don't restrain their dogs while driving
60% have driven while distracted by their pets
52%  have petted their dog while driving
17%  allowed their pooch to sit in their lap while driving
13%  have given food to their dog while driving
4%  have played with their dog while driving
All of these add up to a sure recipe for distracted driving, which is one of the leading causes of auto accidents.
It doesn't take much to seriously injure or kill a pet in an accident. If a car crashes while going 25 mph, an unrestrained dog can be projected forward at a force equal to 40 times its weight. A large dog could hit a passenger or driver with an impact force of 3,000 lbs., enough to deliver a fatal blow to human and pet. Even small pets can hit with enough force to seriously injure themselves or human occupants of the car.
To prevent animal-involved vehicle collisions due to unrestrained pets:
Always place your pet in a crash-tested restraint
Don't allow them to sit in your lap or in the front seat
Never turn around to feed or pet your dog
If you insist on letting your dog run free in the car, put it in the back seat and set up a barrier so it can't fly into the front seat in the event of an accident. Keep in mind that you aren't responsible just for the safety of your pet. You also have a responsibility to passengers in your car and other drivers on the road. Don't allow your pet to distract you and everyone will be safer.
Another type of urban animal-involved vehicle collision occurs when you hit a small animal in the road. Depending on where you live, this can include everything from rabbits to raccoons, coyotes, and more. Many of the same safety rules with wild animals also apply.
If you run over a small animal, you may feel compelled to stop and check on it, especially if it might be someone's pet. Be careful when approaching a strange animal, especially one that is injured. It may be better to call the police or animal control office to come take care of the injured animal.
Keep an eye out for wild animals when driving in open areas. Don't drive with your pet loose in the car. And if you have the misfortune of damaging your car from colliding with an animal, bring it to your nearest Fix Auto shop. We fix damaged cars right the first time and every time!
We are the premier independent body shop network delivering world-class customer service and high-quality collision repairs across the U.S.