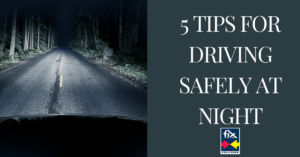 April 3rd, 2017 by
Eli P
Driving at night involves more risk than during the day simply because
driving
is such a visual activity and we are not equipped with great night vision. To reduce this risk, maximize your ability to see at night by practicing these
safe driving
tips.
Properly align your headlights.
Headlights can sometimes get out of alignment, especially in cars with a lot of mileage. This can lead to lights pointing in different directions or lower or higher than they should. If you decide to align your headlights on your own, follow the instructions in your owner's manual. Otherwise, play it safe and have a professional do it for you.
Avoid staring at oncoming lights.
At night time, bright lights can disrupt your concentration and blind you to other cars or obstacles in the road. To avoid these problems, train yourself to avoid looking directly at the headlights of oncoming vehicles. Also, don't let yourself get distracted by bright lights on the side of the road.
Dim your interior lights.
Instrument panel and dashboard lights may not seem like a distraction, but they can definitely compromise your ability to see what's going on around you outside the car. Today's cars have buttons or control knobs that make it easy to adjust these lights.
Turn them down low enough to minimize the distraction but not so low that you can't read the instrument panel.
Keep your windshield clean.
If you think a dirty windshield impairs your vision during the daytime (it does!), it makes it twice as hard to see at night. Keep the inside and outside of your windshield clean, as well as your driver- and passenger-side windows. It also helps to keep side-view mirrors clean. Using newspaper will help clean the glass without leaving streaks that can disrupt your night vision.
Use fog lights.
If you live in an area with frequent foggy nights (or even mornings!), consider installing fog lights. Or, if you have them turn them on! These are relatively inexpensive to buy and install, and they help you see better by spreading their light wider than typical low-beam headlights. Make sure to properly aim them, so they don't blind oncoming drivers.
Bonus tip: never wear sunglasses at night, no matter how cool they make you look!