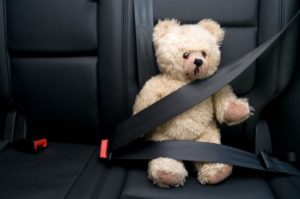 February 7th, 2018 by
Jonathan Herrera
For decades, most safety features in cars were designed to minimize serious injury or even death when accidents occur. With the recent advances in auto safety technologies, the focus is rapidly shifting to preventing accidents before they happen. If you're in the market for a new car, make sure it offers the following safety features, which could soon be mandatory features.
Auto Safety Feature: Forward collision warning
Rear-end collisions are one of the most common and dangerous types of collisions, especially when travelling at high speeds. The forward collision warning system detects when you come up behind a car (moving or stopped) too quickly. When it senses an impending collision, the system immediately sounds a warning alarm, alerting the driver to hit the brakes and/or take aversive action.
Recommended by the National Highway Traffic Safety Administration (NHSTA), these systems can have slightly different names depending on the make and model of vehicle. These include Forward Collision Alert, Predictive Forward Collision Warning and Forward Obstruction Warning.
Auto Safety Feature: automatic emergency braking
Sometimes driver's reactions just aren't fast enough to prevent a collision, especially if they are impaired, overly tired, or practicing inattentive driving of any type—like texting while driving. To counteract slow reaction times, this potentially life-saving technology automatically applies the brakes when it detects a high probability of an auto collision. Often paired with the forward collision warning system, automatic braking is expected to become standard equipment on most cars and light trucks within the next few years. As part of its ongoing campaign to improve safety features in cars, NHTSA is working with auto manufacturers to implement this feature as quickly as possible.
Auto Safety Feature: Blind-spot monitoring
Blind spots are another leading cause of serious auto accidents. This new safety feature continually scans the rear corners of the vehicle that are just out of the driver's line of sight. When it detects a vehicle moving into that area, it automatically lights up the side mirrors to notify the driver. Some models also include a warning tone or vibration when the turn signal is activated; another good reason to use your turn signals whenever making a lane change.
Auto Safety Feature: Lane-departure warning with lane-keeping assist
Most highways have bumps between lanes for a very good reason. But when drivers are tired, sleepy, or their attention is elsewhere, even those bumps may not be enough to alert them when they begin wandering out of their lane. A lane departure safety feature tracks the position of the car and automatically sounds a warning – either a beep, vibration or visual cue on the instrument panel – when the car begins to veer into another lane.
Increasingly, automakers are combining this important safety feature with "lane keeping assist," whereby the car will make a small steering or braking correction to keep the car from going outside its lane. NHTSA is recommending the lane departure warning system in all cars.
Auto Safety Feature: Inattentive driving monitor
Our final "must have" vehicle safety feature may turn out to be the most important of all, as inattentive (a.k.a. distracted) driving is the leading cause of auto accidents. This safety technology monitors a variety of driver behaviors and sensory inputs to determine whether you are not paying attention to the road, too distracted by something inside or outside the car, or in danger of falling asleep. The system then sends a warning to refocus your attention, and may recommend taking a break. The newest models of this safety feature may also briefly apply the brakes or gently move the steering wheel back and forth to get your attention.
Nice-to-Have Safety Features in Cars
The following features don't quite fall into the must-have category, but they can still enhance safety for drivers, passengers and other cars on the road.
Rear cross-traffic alert
Backing up a vehicle always carries a certain amount of risk. This useful safety feature uses sensors located on the car's rear bumper to detect when a vehicle or person is approaching from either side. It's especially useful when backing out of driveways and parking spaces, but the technology isn't perfect. Currently, it does not send an alert when cars or people are directly behind your vehicle, which keeps it off our must-have list.
Adaptive cruise control
Cruise control has been around a long time, but it has gotten better over the years. In addition to just keeping you at a consistent speed, today's models will also apply the brakes if you begin following the vehicle in front of you too closely. This requires trusting your vehicle to speed up and slow down on its own, which many drivers are not ready to do. Still, this handy feature can enhance safety by reducing driver fatigue on long trips.

Automatic high beams
Using your high beams at night provides a wider area of visibility, but it can put oncoming cars at risk. This feature activates your car's high beams when the darkness reaches a certain level, but also switches them off when it detects oncoming vehicles. That way, you don't have to remember if they're on or off, and oncoming drivers don't have to flash their brights at you to get your attention.
Automatic crash notification
Many makes and models of cars now offer telematics systems that automatically call 911 when your airbags deploy – a valuable service when quick response can make the difference between life and death after an accident. These systems can also remotely lock and unlock your car or help locate it if lost or stolen.
As technology continues to improve, driving will continue to get safer. We can all look forward to the day when these features become standard equipment on all makes and models of cars.