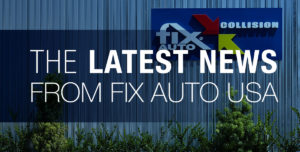 August 6th, 2018 by
Jonathan Herrera
FIX AUTO USA WELCOMES F. LOFRANO AND SON
AS NEWEST FRANCHISE MEMBER

Fix Auto USA is excited to announce additional Northern California expansion as F. Lofrano and Son joins the network with three San Francisco Bay Area locations. Fix Auto USA now operates 135 locations in eight states. The three locations are:
Fix Auto 17th Street (San Francisco, CA)
Formerly F. Lofrano and Son–17th Street; operated by the Lofrano family
Fix Auto Divisadero (San Francisco, CA)
Formerly F. Lofrano and Son–Divisadero; operated by the Lofrano family
Fix Auto San Rafael (San Rafael, CA)
Formerly F. Lofrano and Son–San Rafael; operated by the Lofrano family
"We made the decision the join Fix Auto USA for one main reason: to gain the benefits of a nationally recognized brand all while maintaining complete ownership of our shops," stated F. Lofrano and Son President Tony Lofrano. "It's incredibly rewarding personally and professionally to be surrounded by so many others that truly care about our success, and that's very comforting to me."
"The dynamics of our industry are changing quickly and by aligning our business with Fix Auto USA, we'll be able to take advantage of these changes, so that we can maintain our status as market-leaders," stated Second-Generation F. Lofrano and Son CEO Aaron Lofrano." "We look forward to leveraging Fix Auto USA's platform and the many benefits Fix Auto USA offers."
"Our entire team, including our two operating partners Kien Dao and The Dao, is looking forward to leveraging Fix Auto USA's operational platform of operational excellence," stated F. Lofrano and Son COO Josh Lofrano. "I'm especially excited to begin working with other Franchise Partners to share best practices and engage in dialog that will help improve our businesses collectively."
"It's an honor to welcome the Lofrano family, a multi-generational body shop organization that's been in business for over 40 years, to the Fix Auto USA Network," stated Fix Auto USA President and CEO Paul Gange. "The addition of these locations further strengthens our growing footprint in the greater San Francisco Bay area."
About Fix Auto USA
Based in San Diego, California, Fix Auto USA provides a platform which enables independent owner-operated collision repair facilities to achieve success in a consolidating marketplace. Fix Auto members benefit from a trusted brand, local, regional, and national-level insurance representation, leading edge technology, centrally managed claims processes, and pooled purchasing power, all combined to ensure consistent performance and accelerated growth opportunities. For more information about Fix Auto USA, go to www.fixautousa.com.
Press Inquiries Contact
Jonathan Herrera
Fix Auto USA
858.764.0756
jherrera@fixauto.com 
Copyright © 2018 Fix Auto USA. All rights reserved.