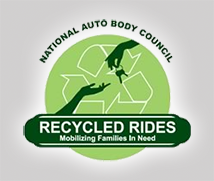 August 16th, 2016 by
Eli P
Fix Auto Escondido and Allstate® Insurance Company presented a Toyota Camry to representatives of the Alabaster Jar Project.
On August 16, Fix Auto Escondido, owned and operated by Kirk Henson, hosted a ceremony with Allstate® Insurance Company and presented a refurbished 2009 Toyota Camry to representatives of the Alabaster Jar Project. The organization is an all-volunteer program in North San Diego that helps restore, rehabilitate, and empower women who have been affected by human trafficking and sexual exploitation.
"The volunteers of the Alabaster Jar Project provide vital assistance to those who have gone through harrowing experiences most can't even imagine, and they do it without thought of personal reward," said Henson. "We're grateful that Allstate and Recycled Rides provided a way for us to support an organization doing such good work in our own backyard."
The vehicle gifting was part of the National Auto Body Council's (NABC) Recycled Rides® initiative, an inter-industry community awareness project that provides vehicles to those in need. Allstate Insurance® donated the vehicle, which was then turned over to the collision repair professionals at Fix Auto Escondido to perform the necessary repairs, free of charge. In addition, a number of local vendors stepped in to donate the necessary replacement parts.
As part of its mission to transform the lives of survivors of human trafficking, the Alabaster Jar Project provides food and clothing, transitional housing, counseling, and therapeutic job training. Reliable transportation is integral to ensuring the support network carries out its work successfully—whether it's picking up supplies or getting members to appointments.
 "We cannot thank Fix Auto Escondido, Allstate, and Recycled Rides enough," said Alabaster Jar Project Executive Director Susan Johnson. "They have enhanced our ability to provide much needed care and services to those we reach. The women we help need safe, reliable transportation and this vehicle will provide exactly that. It's because of this that we are forever grateful."