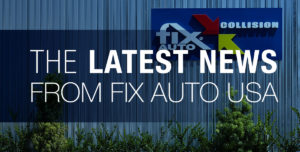 September 16th, 2019 by
Fix Auto USA News
Fix Auto El Mirage (El Mirage, Arizona) and Allstate Insurance teamed up to donate a fully-refurbished 2013 Mitsubishi Lancer to Eve's Place, a Maricopa County-based organization assisting victims of domestic, sexual, and teen dating abuse.
Eve's Place has already begun to leverage this vehicle to further propel their mobile program, which transports its clients to and from various appointments, ensuring services are delivered without the burden of finding transportation. Among many, these appointments include court hearings, attending support groups, and providing individualized personal advocacy.
The gifting is part of the National Auto Body Council's (NABC) Recycled Rides® initiative, an inter-industry community awareness project that provides vehicles to those in need. Allstate donated the vehicle, which was then turned over to Fix Auto El Mirage who performed the necessary repairs free of charge. A number of local vendors contributed the replacement parts needed to finish the job—making it a true community effort.
"Our agency services revolves around vehicles and transporting our clients to safety. Having a vehicle will allow us to extend our reach to serve more clients and provide them with additional services," stated Eve's Place Executive Director Laura Horsley. "On behalf of the entire community at Eve's Place, we would like to thank Fix Auto El Mirage and those involved for this wonderful gift."  
"We're honored to be contributing to an initiative that demonstrates how we can combine our core competency—repairing vehicles properly—with our value systems and local focus to contribute to the well-being of our community," said Fix Auto El Mirage Franchise Partner Karl Copenhaver. "NABC's mission is to show the benevolent side of our industry and provide a lifeline to families and local organizations. This is a pitch perfect way to do so, and we wish all the best to Eve's Place, who now have another vehicle in their fleet."