December 5th, 2018 by
Fix Auto USA
You're shopping for a good used car, and you have found just what you're looking for at a surprisingly low price. You're about to seal the deal with the sales person, when he mentions, "By the way, this car has a salvage title." Now you understand why the price is so low, and suddenly you're not so interested in buying the car.
What does having a salvage title mean?
First, it means the vehicle has suffered damage so extensive that the cost of the repairs exceeds the current value of the vehicle. In that case, the insurance company reimburses the owner for the replacement value (prior to the damage) of the car. From an operational standpoint, most states will not permit a vehicle with a salvage title to be registered or driven on public roads. In order to be legally driven again, the vehicle must undergo extensive repairs and a rigorous inspection.
In an attempt to recover some or all of its costs, insurance companies will usually sell salvaged vehicles to a scrapyard or auto repair company, which will repair the damage and make them drivable again. Regardless of the extent of the repairs, most states require the vehicle's next title to be a salvage title so that potential buyers know the vehicle has been damaged to the point of being a total loss.
What Determines a Salvage Title?
The rules vary from state to state. In most states, vehicles don't have to be completely totaled to be declared as salvage. Instead, they are usually deemed salvage once the repair or replacement costs exceeds a pre-determined amount before the damage. Depending on the state, this percentage can range.
For example, the state of Michigan considers a vehicle as salvage when the cost of repairs runs 75% to 90% of the pre-damage value. In Oregon, vehicles only need to hit 70% of the total loss value, or be abandoned and worth less than $500, to be deemed salvage.
How Does A Car Become Salvage?
In most cases, it is the result of heavy damage to the vehicle. This can include structural damage; for example, when parts of the chassis or engine are destroyed or rendered inoperable. Or, the damage can be mostly cosmetic auto body damage. Either way, once the cost of restoring the vehicle becomes higher than its current value, it will get stuck with a salvage title.

Damage severe enough to warrant a salvage title can result from:
A high-impact accident
Fire or flooding
Severe weather
Vandalism or being stolen
A car can become a salvage without ever getting sold or driven. If a new car dealership gets hit with a disaster – earthquake, flood, hurricane, etc. – brand new cars can be totaled before they ever leave the lot. Sometimes, excessive wear and tear is enough to declare a vehicle as salvage. For example, the vehicle was heavily used as a taxi or law enforcement vehicle. If a car gets returned to the seller under a warranty or remanufactured for resale purposes, it can also earn the salvage title.
Are Salvaged Titles Bad?
This answer to this question is: it depends. Having a salvage title doesn't mean the car is useless. Instead, it's a sign that the vehicle was extensively damaged in the past and potential buyers should beware. If you're looking for a cheap set of wheels, salvage title cars will definitely cost less. They're also safe to drive or they wouldn't be allowed back on the road. On the other hand, you can never know in advance how the vehicle will hold up in the years ahead.
If you buy a salvage title car, it will always be a salvage car, even if it doesn't have any problems. So if you decide to sell, it will have a lower value than similar non-salvage cars. Most dealerships won't accept salvage cars as a trade-in, which means you will be forced to sell it privately. Also, your insurance company will likely assign the vehicle a very low replacement value. If it gets seriously damaged again, you probably won't receive as much for it as a non-salvage car of the same make and same condition.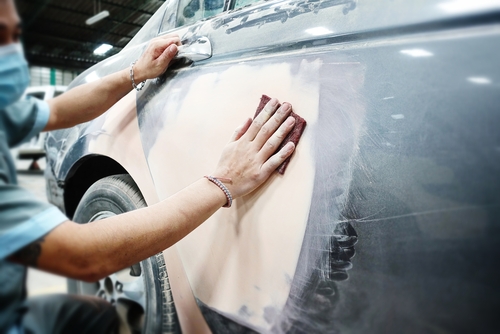 Can a Salvage Title Be Cleared? 
The short answer is "no." Once a car is declared salvage, it must always have a salvage title. Some states allow sufficiently repaired salvage vehicles to be retitled as "refurbished." But, it still indicates that the car had a salvage title and has been substantially repaired. Title laundering, the unscrupulous practice of registering a car in a different state to hide its status as a salvage vehicle, is illegal and can lead to civil and criminal penalties.
In some situations, buying a salvage title car can save money and provide a reliable set of wheels. But, be very clear about what was damaged and how severely before making such a purchase.